January 6, 2020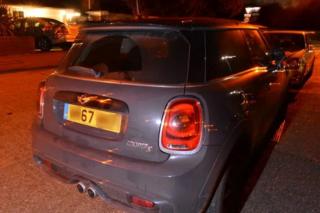 A Metropolitan Police officer was seriously injured when he was struck by a car in a hit-and-run.
The on-duty officer was hit by a Mini Cooper as he attempted to stop the vehicle on Chigwell Road in Woodford, north-east London, at about 00:10 GMT.
He was treated by paramedics and taken to hospital where he remains in a serious but stable condition.
Scotland Yard said the car sped away following the crash and was later found abandoned in Woolhampton Way, Chigwell.
Police had begun pursuing the grey Mini after it failed to stop when they indicated for it to do so in Chigwell Hill, near Saint Barnabus Road.
'Lucky to be alive'
The injured officer, who is aged in his 30s, was one of a number who had positioned themselves near Gaynes Hill Road and the M11 overpass to wait for the vehicle.
He was hit by the car as he tried to deploy a "stinger" device in an attempt to stop it.
The Mini was found abandoned at about 00:45 and police are searching for the driver.
Det Sgt Jose-Paulo Qureshi said the victim was "lucky not to have been killed".
"I would appeal to those who were involved to do the right thing and hand yourself in," he said.
No arrests have been made.